1. Our hearts race
(Image/ Source: clinicaladvisor.com)
When we're stressed, our hearts can race – even if we don't quite realize it. While it's normal for our heart to beat quicker when we're in stressful situations, it really isn't pleasant. Plus, these can turn into palpitations as our cortisol levels rise.
2. We get anxious

(Image/ Source: reddit.com)
Whether you're experiencing a big event or continuous pressures from modern living, stress can also lead to anxiety. If you've already been diagnosed with anxiety by your doctor, you'll need to be super careful when it comes to stress, as this can make your mental health disorder a whole lot worse.
3. Headaches become all too common
(Image/ Source: reddit.com)
Hands up – who's experienced a stress-induced headache? Stress is a common culprit of tension headaches and migraines, and it can actually make other types of headaches like cluster headaches even worse. If you're experiencing headaches regularly in times of stress, be sure to speak to your doctor.
4. We feel bloated
(Image/ Source: reddit.com)
Our stomachs really do struggle when we're stressed. As we hold a LOT of tension in our stomach (sometimes without realizing it) it's no huge surprize that things can quickly get out of sync. Many women can experience bloating when stressed, as inflammation and bacteria imbalances increase.
5. Weight gain
(Image/ Source: reddit.com)
Cortisol can wreak havoc on our bodies. This stress hormone stimulates our appetite by increasing our insulin levels, so we're more likely to crave fatty, sugary foods. And if we don't feel a need to eat these foods, cortisol also slows down our metabolism, which makes it harder to shift the pounds.
6. Overwhelm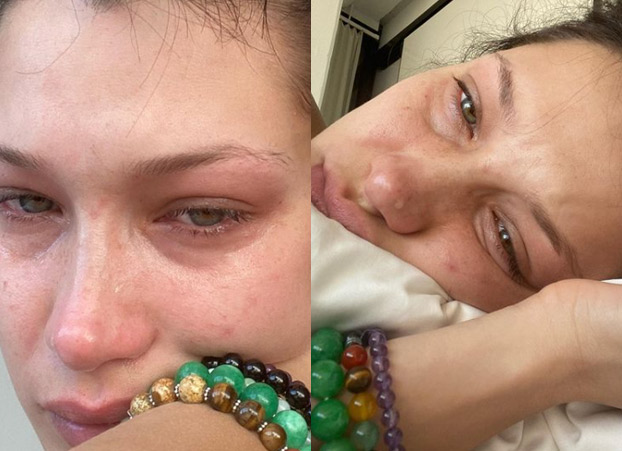 (Image/ Source: bollywoodhungama.com)
When our stress levels are high, the smallest thing can tip us over the edge. Going to the supermarket, running an errand or having to do some tidying can make us feel completely overwhelmed – especially if our cortisol levels have been high for a prolonged period of time.
7. Acid reflux
(Image/ Source: reddit.com)
Another side effect of stress is acid reflux, which is actually quite common. Emotional stress can actually increase acid production in the stomach, especially in those who suffer from GERD (gastroesophageal reflux disease). Be sure to keep some acid reflux tablets handy if you're struggling.
8. We get irritated easily
(Image/ Source: urbanislandz.com)
When stress hits, it can make us super moody. We can get irritated and become easily frustrated, which means we're actually quite hard to deal with at times. Try to surround yourself with a solid support network that understands what you're going through, as this will go a long way.
9. Racing thoughts
(Image/ Source: reddit.com)
If you're racing around at 100 miles an hour and have a ton of things to organize and deal with, chances are, you'll experience racing thoughts at some point. You might start thinking about a task you need to finish before you quickly move on to something else on your to-do list, which isn't healthy.
10. Cardiac problems
(Image/ Source: ctvnews.ca)
If you've experienced stress for a prolonged period of time, you may end up with some of the more severe side effects. Those who have dealt with intense stress (for example, someone who has experienced trauma) can actually end up with cardiac problems like high blood pressure.
11. Nausea
(Image/ Source: prevention.com)
As stress hits our stomachs so hard, it's not really surprising that so many women experience nausea. Feeling sick and dizzy is an all-too-common side effect, so make sure you're giving yourself time to rest and stay hydrated. If this is happening on a regular basis, speak to your doctor.
12. Depression
(Image/ Source: reddit.com)
While some women can experience anxiety when stressed, others go the opposite way. Depression is yet another possible outcome of stress, which can also present its own set of problems. It's really important to reach out for help if this is something you're dealing with.
13. Irregular periods

(Image/ Source: reddit.com)
If your periods are irregular right now, it might be a good time to assess whether you've been stressed lately. Many of us can experience menstrual problems when stressed, as cortisol can actually interfere with the hormones that control our menstrual cycles.
14. Lower sex drive
(Image/ Source: reddit.com)
As if we weren't going through enough, it's been revealed that stress can also ruin our sex drive. If you've got a lot to deal with, sex might be the last thing on your mind, plus, your body will be suppressing your sex hormones thanks to its high levels of cortisol.
15. Acne breakouts
(Image/ Source: reddit.com)
This is something all of us will have probably experienced at some point. You've got a big interview coming up, plus lots of family commitments and social events, then bam: your skin starts acting up. Stress can seriously aggravate our skin, so make sure you've got the right products to deal with breakouts.
16. Hair loss
(Image/ Source: reddit.com)
In some extreme cases, some women can actually start losing their hair as a result of stress. This tends to happen when stress has been prolonged, or when the stress has been particularly traumatic or intense. It's entirely possible for your hair to grow back though.
17. Sleep problems
(Image/ Source: reddit.com)
This is a super common side effect of stress. But that doesn't mean that it should be overlooked. Not getting enough sleep can make your stress (as well as the side effects of stress) even worse, so try to get into the habit of a good pre-sleep routine. Which means no scrolling on your phone before bed!
18. Lowered immunity
(Image/ Source: reddit.com)
When we're exposed to stress for a prolonged period of time, our immunity starts to drop. You start to get run down, which makes it more likely that you'll catch a bug or get sick. And with so many strains of cold, flu, and covid going around right now, it's not exactly an ideal situation.
19. Difficulty in concentrating
(Image/ Source: yahoo.com)
Stress can seriously affect our ability to concentrate, which means you might find it a lot harder to retain, process and recall information. You might be struggling to study, get your work done, or get through an evening of socializing with friends or family members.
20. Heavier periods
(Image/ Source: reddit.com)
Your periods might become irregular under stress, but did you know they can get heavier too? Our menstrual cycles can get really confused when our cortisol levels are increasing, so you might end up experiencing a period that's much heavier than normal. We'd recommend speaking to your doctor if you have any concerns.
21. Low mood

(Image/ Source: reddit.com)
You might not be one of the women who end up dealing with depression, but you can still experience low moods in times of stress. This can be further aggravated if you're struggling with sleep. Try to make time for exercise and doing things you enjoy, as these are guaranteed mood boosters.
22. Eczema and rashes
(Image/ Source: reddit.com)
While some of us experience acne breakouts, others can end up with flare-ups of eczema, as well as hives and rashes. Stress is a common trigger of eczema, and sufferers will know all too well that this can end up in a vicious cycle. The more the eczema flares up, the more stress it can cause.
23. More painful periods
(Image/ Source: reddit.com)
Not only can your periods get heavier and irregular, but they can also get a lot more painful too. If the pain hits, there are a few things you can try; yoga, stretches and meditation are all good options. And you can't go wrong with a hot water bottle on your abdomen!
24. Changes to our appetite
(Image/ Source: reddit.com)
When our cortisol levels are high, they can seriously affect our appetite; we may not want to eat any food at all, or we might want to eat tons of junk food to make ourselves feel better. Try to stick to a food routine that's easy to follow when you're busy or stressed, as your body will thank you for it.
25. Panic attacks
(Image/ Source: reddit.com)
If you're experiencing anxiety and heart palpitations in times of stress, you may also find that you're having to deal with panic attacks too. These are more likely to occur when you're facing stress over a prolonged period of time. Try and minimize your caffeine and alcohol if you can.
26. Aching or painful joints
(Image/ Source: prevention.com)
Stress is also a huge contributor to joint pain. We tend to hold tension in different ways, but common pain points include the neck and shoulders, which are also aggravated by bad posture. If you're working at a desk, remember to take regular breaks; walk, stretch, and breath slowly.
27. Lack of energy
(Image/ Source: reddit.com)
When you're dealing with stress, it's all too common to experience a lack of energy. It might be hard to find the strength to keep ticking everything off your to-do list, so be sure to take a step back before you get burnt out. Exhaustion can take a long time to bounce back from.
28. Social isolation
(Image/ Source: imgflip.com)
When we're super stressed, we can sometimes want to hide under a blanket and not take part in all the social plans we've made. But this isn't a good idea. Spending time with the people we love most can really boost our mood, so don't be afraid to open up and talk about how you're feeling.
29. Feeling over emotional
(Image/ Source: instagram.com)
Let's face it – we can be overly emotional at the best of times (thanks menstrual cycle) but when you're stressed, this can reach another level. If you find yourself crying a lot and struggling to get through tasks you'd normally sail through, it might be time to take a day off.
30. Lighter periods
(Image/ Source: reddit.com)
While some women get heavy periods under stress, some end up with much lighter periods than normal. This isn't the flex you might think it is, as your body is struggling to operate in a way that's normal for you. Keep a diary to monitor this and report back to your doctor.

source
The article is sourced from the internet. Click the "Source" button to view the original content. If there is any copyright infringement, please contact our team for removal.